100% women-owned. Founded, designed and created in ON | FREE SHIPPING on orders over $125
It all began in November 2016 when we were having a beer over dinner at our student rental house. We are both from small towns in Chatham-Kent, Ontario and at the time were completing our undergraduate degree at the University of Windsor.
After reminiscing about our memories of growing up in the countryside of Ontario and spending our summers on the beaches of Lake Erie, we believed Ontario needed an apparel brand that represented the beautiful natural and rural surroundings that we remembered being completely immersed in throughout our childhood. Ontario has Canada's most popular metropolitan cities, and yet, it also occupies rich wilderness and the Earth's largest fresh water system in the world. And that is how the idea of BCO was born.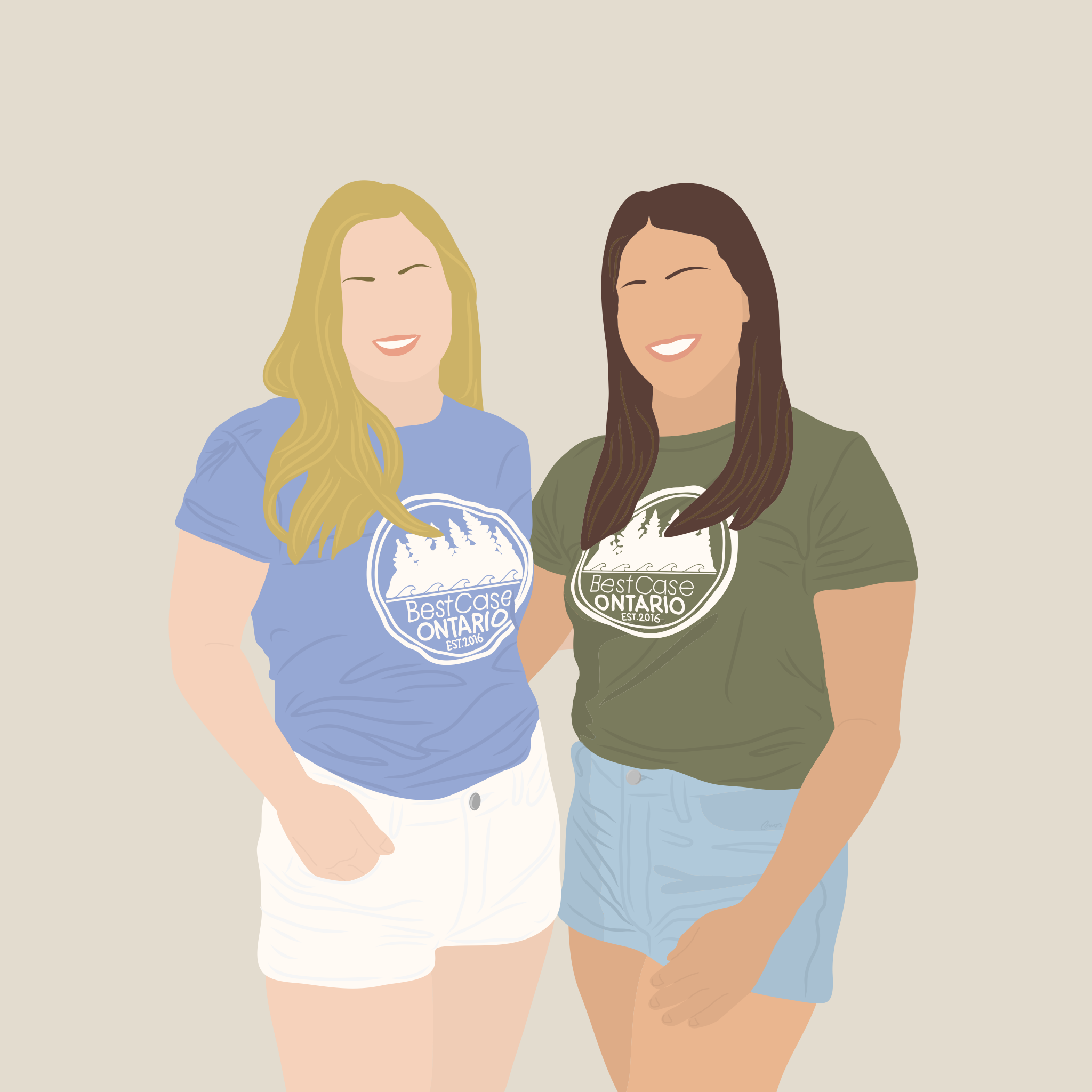 We designed our first logo, printed it onto 25 t-shirts and sold it to our closest friends and family. The word began to spread quickly and using the proceeds from the first order, we began to distribute t-shirts and hoodies through a Facebook page and eventually at several festivals and markets throughout Southern Ontario. We handled all operations out of the spare room in our student house until we eventually graduated and moved back home to Chatham-Kent.
Since then, Best Case Ontario has grown in amazing ways that we couldn't have imagined; From achieving a fully operating website to attending many festivals and events around the province, we hope to continue to promote Ontario and encourage adventures in our own backyard!
So, help us celebrate our beautiful province and join the adventure with us!
The logo consists of five waves to represent each one of the Great Lakes. The six trees signify the lush woodlands in Northern Ontario, and each tree symbolizes each district in the provincial capital, Toronto. The logo is then surrounded by a circle to represent the unity of the people living in the province. With each t-shirt BCO hopes to inspire Ontario pride within and outside of the province and celebrate the experiences and adventures within our very own backyard.
To design and create apparel that represents the natural and rural experiences and adventures throughout the province of Ontario.